The Thau lagoon is famous for its enchanting sunrises and sunsets. Unequalled in terms of gradations, it has a mirror effect on the pond that is absolutely incredible. Perfectly smooth, the pond intensely reflects the sun's light, from yellow to pink, even red, or dark blue to violet.

How does it all work?
The colour variations are due to the distance the light travels in the atmosphere. The light first travels through a layer of nitrogen, oxygen, noble gases, dust, pollen and various other pollutants that make up the atmosphere, before it hits the earth or bounces off the sea.
The more molecules this light encounters in its path, the more it diffuses. At sunrise and sunset, sunlight travels a long way through the atmosphere: all the colours with short wavelengths disappear and the colour of the sky and the sun turns pink, orange or red. In the middle of the day, there is little light scattering, because the path of the sun's rays through the atmosphere is short and the sky is blue. In the mountains, this path is even shorter and the blue of the sky becomes stronger until it appears dark blue.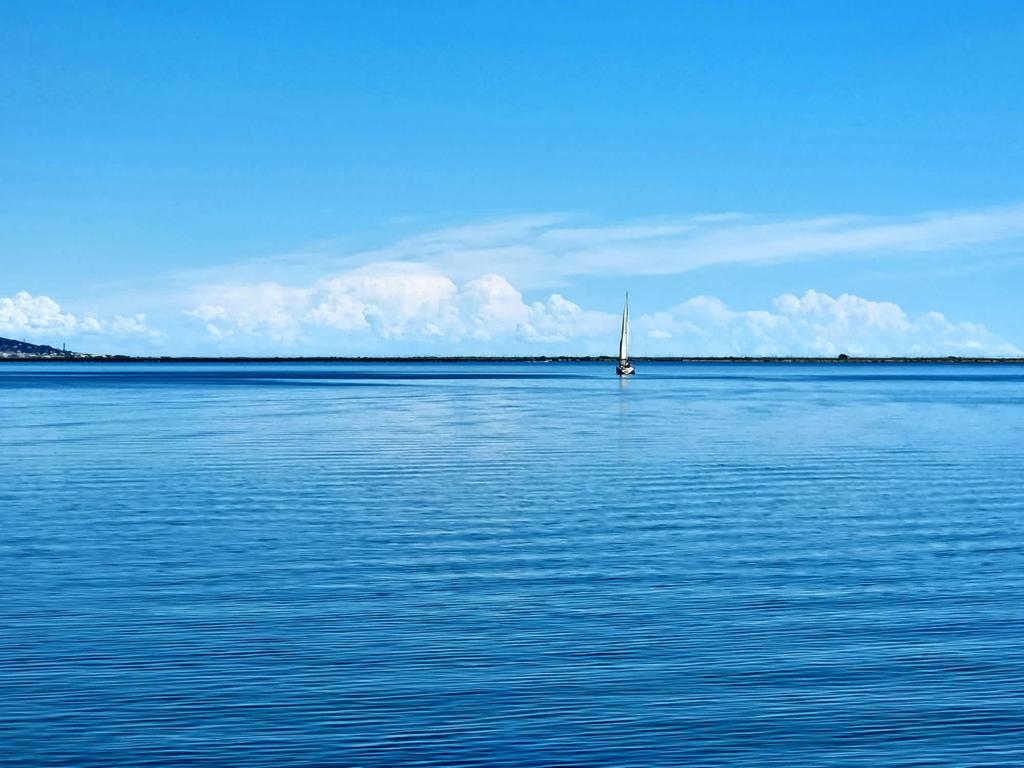 Why is the Thau basin famous for its lights?
Even if the municipality of Marseillan fights against light pollution, colour hunters know that they will always be satisfied by coming here and will never leave empty-handed. The size of the lagoon (70 Km2) and the distance which separates Marseillan from Sète, for example, is sufficient to welcome a moment of grace which we owe to the dark side of the place, almost total, except for a timid garland of lights which stretches in the distance, at the feet of Mont Saint-Clair.
Then, of course, the magic of the water takes over and seems to double the intensity of the colours by adding even more subtle nuances. The flat calm of Thau concentrates and retains these pixels of colour that have fallen from the sky, delicately nestled in its arms, trapped in the most marvellous of clutches… The owners or users of the Port Marseillan real estate complex, formerly Port Marseillan – of which Miguel Espada is the main investor – will benefit from this daily spectacle and will be able to savour it like a divine gift…
Translated with www.DeepL.com/Translator (free version)